"Béla Bartók's Mikrokosmos (German for Microcosm) Sz. 107, BB 105 consists of 153 progressive piano pieces in six volumes written between 1926 and 1939. The individual pieces progress from very easy and simple beginner étudesto very difficult advanced technical displays, and are used in modern piano lessons and education. In total, according to Bartók, the piece "appears as a synthesis of all the musical and technical problems which were treated and in some cases only partially solved in the previous piano works." Volumes one and two are dedicated to his son Péter, while volumes five and six are intended as professionally performable concert pieces.[1] Bartók also indicated that these pieces could also be played on other instruments; Huguette Dreyfus for example has recorded pieces from Books 3 through 6 on the harpsichord."
All of the six volumes progress in difficulty, namely:
Volumes I-II

            Pieces 1-36 and 37-66, beginner level


Volumes III-IV

          Pieces 67-96 and 97-121, moderate to advanced level


Volumes V-VI

          122-139 and 140-153, professional level
Audiovisualization        I       3D  Print
Béla Bartók: Mikrokosmos - Special Edition
Bartók Béla

Mikrokosmos

című művének grafikai átirata
Béla Bartók's Mikrokosmos consists of 153 progressive piano pieces in six volumes written between 1926 and 1939. My work is a graphic transcription of this huge work that combines typography and visualization of the music.
Bartók Mikrokozmosza egy 153 zongoradarabból álló, hat részes alkotás, mely 1926 és 1939 között született. A munkám ennek az óriási műnek a grafikai feldolgozása, mely magában foglalja a tipográfia és a zene együttes vizualizációját.
COSMOS    I    SPACE    I    PLANETS    I    GRAVITY    I    DARKNESS
Audiovisualization of the six volumes 
A zene vizualizációja tipográfiai eszközökkel. Esetemben, a hat rész mindegyike egy-egy geometriai elemre redukálódik vizuálisan, melyeket egy egyszerű pontokbol álló grid-rendszer épít fel (ez hivatott szimbolizálni a kozmosz strukturáját). A létrejött formák felületén köszönnek vissza az egyes részek címei ( formailag az égitestek felszíni egyenletlenségére szerettem volna ezzel reflektálni), melyek az adott címhez tartozó zongoradarab megszólalásával mozgásba kerülnek. Ennek eredményeképp, a hat részhez készült grafika a mozgásban lévő formák egy-egy kiragadott képkockájaként jött létre.
Editorial design with 3D printed slipcase using the first part's elements 
A létrejött objektek továbbvitele, kiragadva őket a virtuális térből, hogy egy kézzel fogható formában jelenjenek meg. Célom egy díszkiadásként funkcionáló kiadvány létrehozása volt, mely tulajdonságait tekintve, jóval inkább egy tárgyként van jele, amely magában hordozza a zene milyenségét és az abból eredő asszociációkat, valamint a zongorázni tanulóknak egy egészen új vizuális élményt nyújt a megszokott kottafüzetekhez képest.
Egy 3D nyomtatással készült könyvtok tartja össze a hat füzetet, melynek felszínén újra megjelennek az általam felhasznált geometriai alakzatok finoman kidomborodva a felületből, amellyel ismételten az égitestek felületi játékaira kívántam utalni.
​​​​​​​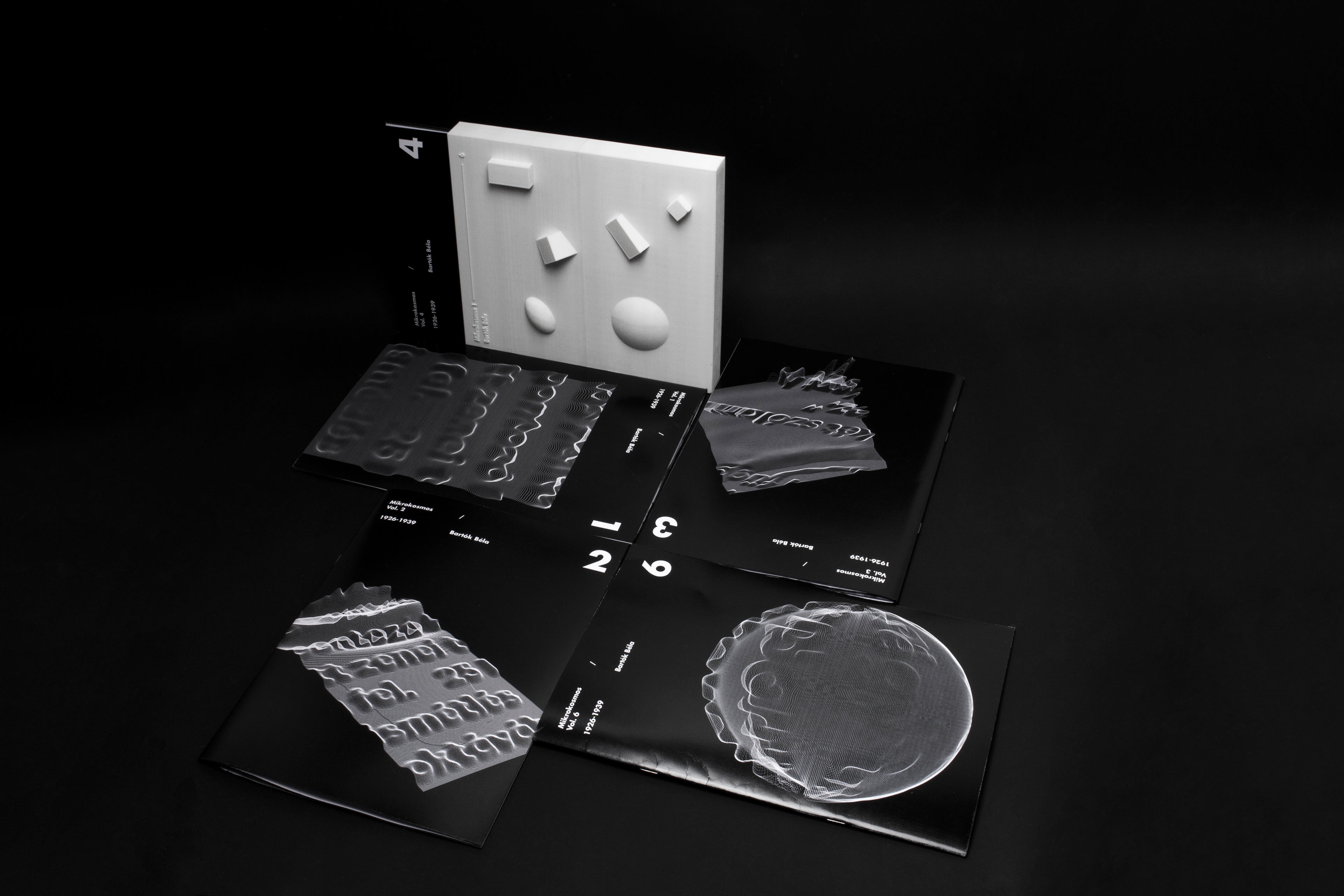 BA Degree Project

       

2 0 1 6      

Moholy-Nagy University of Art and Design

   Budapest
Consultant

     

        

Dora Balla


Press               

       DigitalPress


3D Edit

                    Annabella Hevesi


3D Printing 

            3DEE.HU


Photo                      

Sarah Szatmári


Photo retouch  

        Nóra Kaszanyi


Special thanks         

Alex Márton